Directors of the Immagina Florence Film Festival
International cinema competition in Florence founded by Giuseppe Ferlito and directed by Giovanni Bogani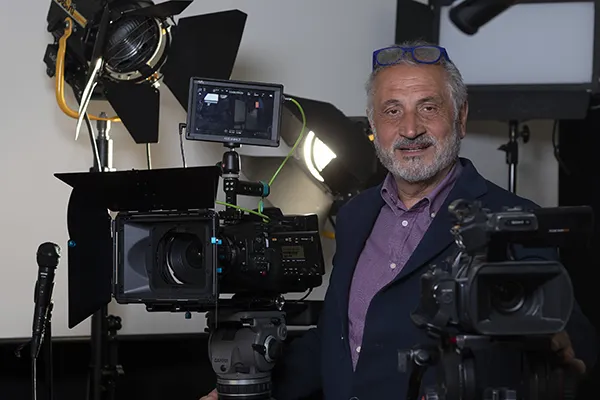 GIUSEPPE FERLITO – Founder
Founder of the Immagina Florence Film Festival, he is an Italian director and screenwriter. Since 1994 he has been the artistic director and teacher of directing and acting at the Immagina Cinema School in Florence. In his career, Ferlito has made numerous independent productions and feature films with producers, which were then screened in national cinemas and broadcast on various television networks.
Among his most important works: the feature film "Infernet" (2016), produced by A.C. Production and starring Ricky Tognazzi, Roberto Farnesi, Remo Girone, Katia Ricciarelli, Andrea Montovoli, Daniela Poggi, Luca Seta; the feature film "Né terra né cielo", (2001), financed by the Ministry of Cultural Heritage as a film of Cultural – National interest and the feature film "Female" (1998), produced and distributed by Cecchi Gori Group, starring Monica Guerritore and Roberto Farnesi and written by Giuseppe Patroni Griffi.
In the summer of 2019 he made his latest feature film "Re Minore", shot entirely in Sicily and produced by the Immagina Film School. The feature film won the Salerno 2020 International Film Festival. Ferlito's latest work, the short film "Vecchio mondo", focused on the theme of Covid, which involved the actors Roberto Farnesi, Enrica Pintore and Sergio Forconi.
GIOVANNI BOGANI – Director
Director of the Immagina Florence Film Festival, he is a journalist and film critic of Quotidiano Nazionale, which collects the newspapers "La Nazione", "Il resto del Carlino" and "Il Giorno". He has directed international film festivals and won the national awards "Adelio Ferrero" for film criticism and "Domenico Meccoli" for journalism. He participates, as a film critic, in the program "Cinematografo" on Raiuno.
He has written various novels and essays on cinema, including those about directors Wim Wenders, Robert Altman, Andrej Tarkovskij and Michelangelo Antonioni. He also wrote the monograph on the English director Peter Greenaway for Il Castoro, and has published numerous novels. Recently he wrote, as a screenwriter, the short film "Do you notice me?" on cyberbullying, directed by Giuseppe Ferlito.